We offer a wide range of environmental consulting and remediation services for sites in Alaska. We have experience managing projects at every stage, from initial spill response to site cleanup and closure.
We provide field screening to identify contamination on military construction projects. Our timely plans and reports keep you on schedule, and our experienced staff keep your crew safe.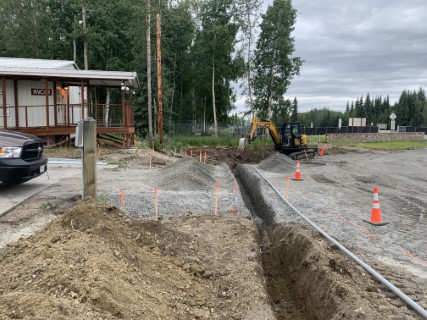 Contaminated Soil Management
We provide oversight of stockpiling, management, and disposal of contaminated soil encountered during military construction projects.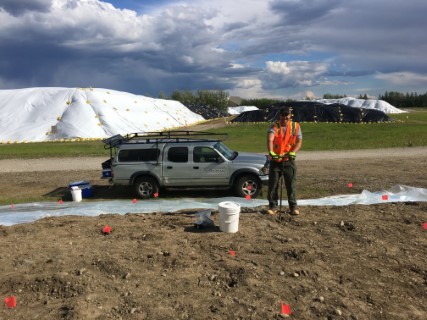 Phase I Environmental Site Assessments (ESAs)
We perform Phase I ESAs, meeting due diligence requirements for liability protections under CERCLA and state law, in accordance with ASTM 1527-21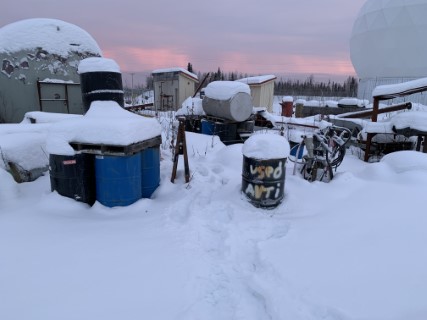 Phase II ESAs include sampling to define risks associated with a property. Leverage our local knowledge and expertise to guard against unforeseen liabilities.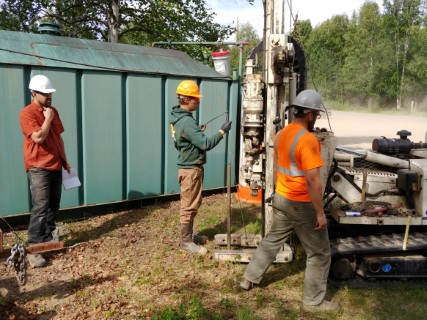 Stormwater Pollution Prevention Plans (SWPPPs)
We prepare SWPPs for construction projects, and can provide inspection services alongside field screening.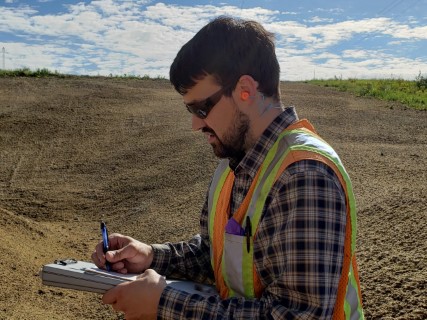 From subsurface soil and groundwater sampling to vapor intrusion investigations, we can handle all aspects of site characterization.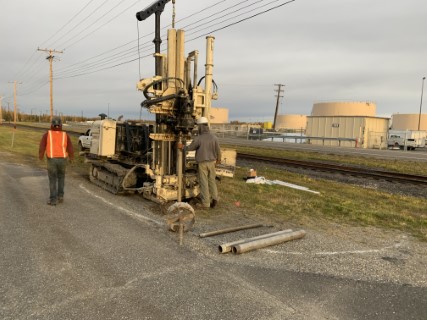 From designing a monitoring program to installing, developing, and routine sampling of wells, we perform groundwater monitoring in all weather conditions (including -30F).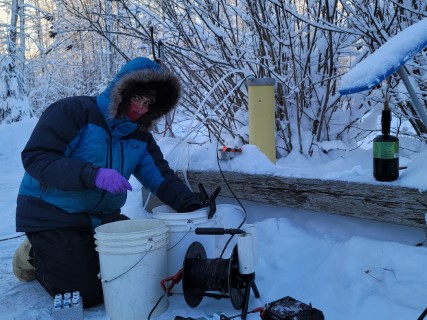 We have experience evaluating a wide range of remediation techniques with respect to cost, feasibility, and effectiveness, from small projects to multi-million dollar cleanups.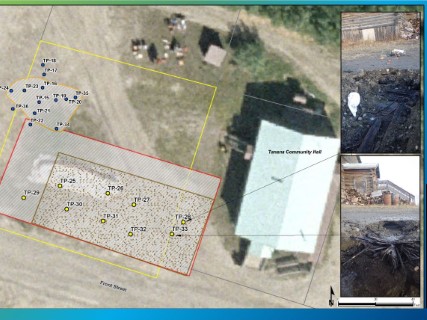 Brownfield Assessment and Cleanup
We work with rural communities to inventory, assess, seek funding, and clean up brownfield sites, maximizing local labor and economic benefit.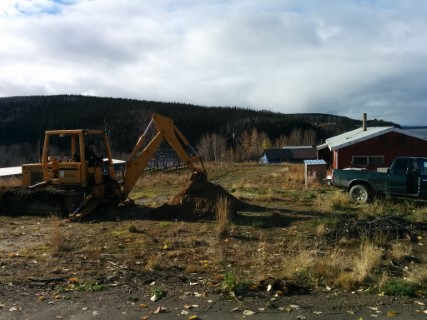 VI is one of the most challenging aspects of site characterization and risk management. We are experts in VI, having investigated this pathway at numerous Fairbanks sites.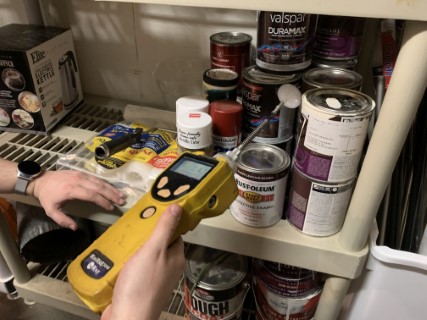 Effective and timely initial response can save tens of thousands of dollars over the course of a cleanup. We respond quickly throughout Interior Alaska.
After the initial response, we provide site cleanup services to restore the site, including contaminated soil removal and remediation or in-situ remediation.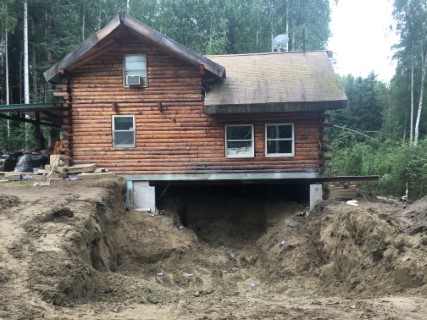 From backyard operations to 4-acre landfarms tilled by heavy equipment, we have the experience to ensure your landfarm is effective at treating soil.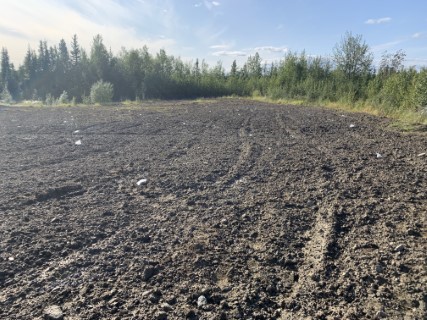 We are local experts in phytoremediation of petroleum contaminated soil. We work in partnership with UAF and ADEC on long-term phyto studies and have completed multiple successful field applications.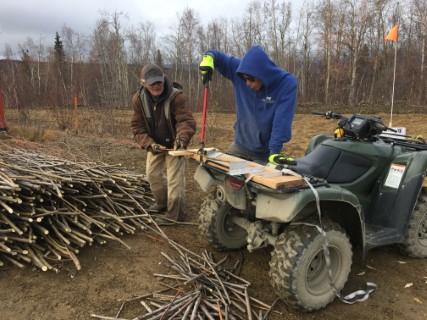 Vapor Intrusion Mitigation
We have experience installing mitigation systems on a variety of commercial and residential buildings. In most cases, indoor air target levels were met within days of system startup.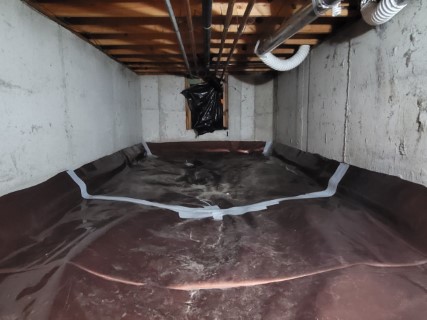 When your home heating oil tank is at the end of its service life, let us safely perform tank closure in accordance with state guidance. We also provide initial response and cleanup of heating oil spills.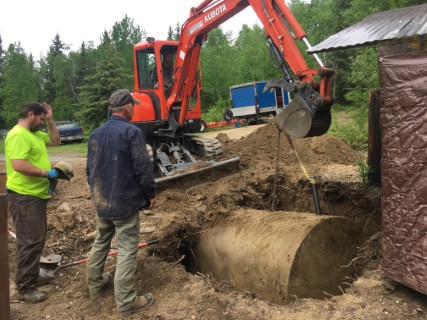 Debris removal can be challenging when there is the potential presence of hazardous materials. We have the necessary training and certifications to safely characterize and remove debris and hazardous waste.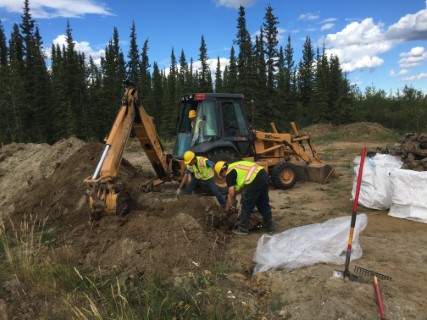 SITE CLOSURE EXPERTS
We have succeeded in closing many of the spill sites we have worked on, and have experience working with the ADEC contaminated sites program to move longer, more complicated sites toward closure. While we are a small company, we work with a talented and trustworthy network of subcontractors and partners: no project is too small or too large. We implement innovative solutions to save costs for our clients. These are just some of our success stories.
Home heating oil spill site, Ester, Alaska (2016): significant release of heating oil occurred to interior of cabin due to vandalism, resulting in total loss; demolished cabin, completed full cleanup of contaminated soil, and restored gravel pad (site closed). 

Circle School Teacher Housing contaminated site (2017): conducted subsurface characterization with our hand-held direct push drilling rig, at very little cost to our client, demonstrating soil cleanup levels had been met (site closed).

Home heating oil spill site, Ester, Alaska (2018): using innovative approach with a specialty foundation contractor, structural engineer, and experience general contractor, removed 150 cubic yards of contaminated soil from the footprint of a house. Installed phytoremediation plot and a vapor mitigation system, and are working toward cleanup complete status with institutional controls.

Home heating oil spill site, Goldhill Road, Fairbanks, Alaska (2019): working in extremely tight quarters, removed 100% of contaminated soil in 3 days with a mini-excavator and skid-steer loader (site closed).

Remote contaminated site near Delta Junction, Alaska (2020): completed removal of contaminated soil at a former drum dump, reviewed historic records, and compiled a report that supported site closure (site closed).
Arctic Data Services, LLC provides thorough, defensible, and prompt chemical data review services at great value. Founder and principal chemist Rodney Guritz's laboratory and environmental field sampling backgrounds make him a valuable teammate on any site assessment or remediation project. He is an excellent liaison between the project manager and analytical laboratory.
Arctic Data Services, LLC (ADS) is a considerable value to what our company does. They provide timely quotes, reasonable pricing, and an excellent product. On more than one occasion, our clients have returned high praise for the quality and thoroughness of the data review performed by ADS. Thank you, ADS!
ADS is fast and reliable, and their work is of the highest quality. They are flexible when needed and keep me appraised of their progress. I really like working with ADS.
Arctic Data Services did a fine job repairing our home and land after a home heating oil spill. They crafted an affordable solution to fix what the insurance company would not cover, which saved us a ton of money. The repairs to the house were done swiftly and the work is of fine quality. All of the subcontractors were very skilled and did an excellent job.